Ticketing FAQ
Streaming questions / Technical issues
Where are my purchased tickets? Where do I go to watch my films?
All of your tickets and their "watch now" links are accessible at https://filmfestdc2022.eventive.org/tickets. Please make sure that you are logged in.
You can also find the link to watch your film in the confirmation email you received after initially making your order.
---
Can I watch the films on my television/tablet/Ipad/smartphone?
Absolutely! Films can be viewed using a computer, tablet/smartphone, or television.
To stream to a television you can use Apple TV, Roku, Chromecast (3rd gen or later), or a smart TV enabled with AirPlay or Chromecast. You can also directly connect a laptop or computer using an HDMI cable.
Answers to specific streaming methods, how-to's, and additional frequently asked questions can be found on Eventive's website.
---
I am having technical issues (the film keeps stopping and starting, the subtitles are too small, the sound is distorted, the page keeps crashing, etc.)
All technical questions should be directed to our digital streaming platform, Eventive. They're best equipped to address all of your technical issues!
On each Eventive screening page there is a "Need Help" button located on the top right that takes you to our streaming platform's FAQ page. If you are unable to find the answer in the FAQ, you can launch chat support that goes directly to their audience support team.
Please allow a minimum of 15 minutes for responses in the chat support. Your patience is immensely appreciated.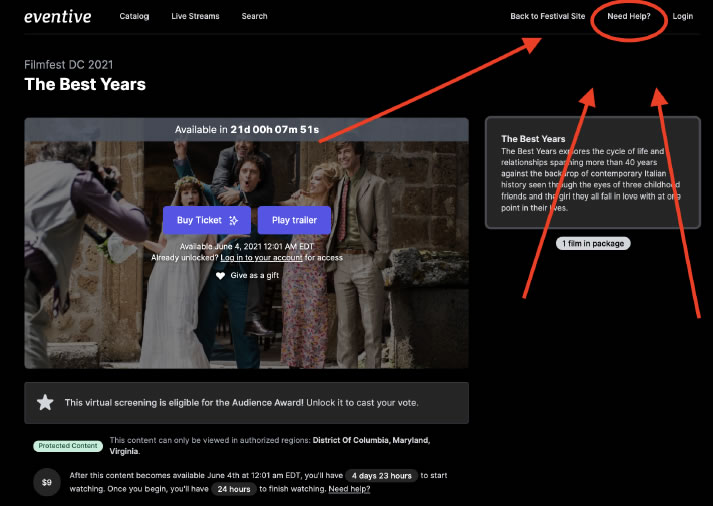 ---
Director's Passes / STAR Passes
Can I purchase a Director's Pass? Can I purchase an all-access STAR pass?
---
I've purchased a Director's Pass/STAR Pass. How do I use it?
Here's how to reserve tickets using your Director's Pass or STAR Pass:
Browse our film list.
When you find the film you want to view, select the blue "Get Tickets" button. You will be led to Eventive, our streaming platform.
On the Eventive page, select the purple "Buy Ticket" button at the center of the video.
Make sure you are logged in. If you are not logged in, after clicking "Buy Ticket", a window will pop-up prompting you to log in.
If you are logged in, after clicking "Buy Ticket", a pop-up window will appear prompting you to order your ticket for $0 using your pass. Click the purple button on this window to reserve your ticket.
You're all set! You'll receive an email confirming your reservation. This email will have the link to watch the film. To view all of your reserved tickets and to access the links to view your films, you can also visit https://filmfestdc2022.eventive.org/tickets. To edit your pass name, or to view the number of used/unused reservations, visit https://filmfestdc2022.eventive.org/passes. Please make sure that you are logged in!
---
With my pass, can I exchange one film I've reserved for another?
Yes. Log in to your Eventive account, select the tickets icon in the top right corner, and select the "Manage" button to the right of your ticket for the "cancel" option. Then select your new ticket from our film list.
---
Geographic Restrictions
Streaming films are geographically restricted and can only be viewed within the US.
---
Miscellaneous
Can I purchase tickets over the phone?
Unfortunately, we are not able to sell tickets over the phone.
---
What is your refund policy?
Refunds are available up to 48 hours in advance of your film's availability start date. No refund will be issued with less than 48 hours notice.
No refunds will be issued if you miss your screening. No full or partial refunds will be issued for Director's Passes.
---
Still have questions?