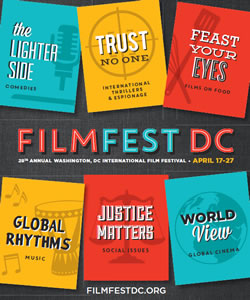 Download the catalog
Welcome to Filmfest DC 2014
Filmfest DC is back for its 28th year with an exciting new program of features, documentaries, and shorts representing the best in new cinema from around the globe.
Tickets Now On Sale!
OPENING NIGHT
The Grand Seduction with special guest director Don McKellar
April 17 at 7:00 PM - AMC Mazza Gallerie
Followed by a reception
$40 - Buy Tickets
CLOSING NIGHT
The Bachelor Weekend
Sunday, April 27 at 4:00 PM - Lincoln Theatre
Followed by a party at Brixton
$20 - Buy Tickets

The Grand Seduction
Trust No One: Espionage and Thrillers
It's back! Are you scared?! A selection of riveting and action packed films that will have you sitting on the edge of your seat.
The Lighter Side
Here to make you laugh... This series of international comedies will once again prove that politics isn't the only thing that's funny in Washington!
Feast Your Eyes
Eat Good Things. A special sidebar this year of films about what and how we eat.
Justice Matters
Do the Right Thing. Now in its fifth year this juried competition focuses on social justice issues around the world.

The Bachelor Weekend
Download the Filmfest DC App
US and North American Premieres
US Premiere Films

Excuse My French
North American Premiere Films
Meet our special guests
Guest appearances are subject to change.
All festival guests will participate in an audience Q&A after their screenings.
Thursday, April 17
Saturday, April 19
Sunday, April 20
Monday, April 21
Tuesday, April 22
Wednesday, April 23
Thursday, April 24
Friday, April 25
Saturday, April 26
Watch Our 2014 Festival Trailer
Trailer created by:
LeRoy R. Konen, Jr.
Michele DiRenzo
Alexandra Noyes
- Cerebral Lounge

Julie Mays
Wall Matthews
Rich Isaac
- Clean Cuts Music & Sound Design