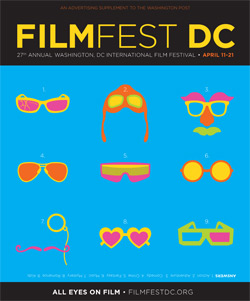 Download the catalog
Filmfest DC - April 11–21, 2013
Filmfest DC is back for its 27th year with a fresh new program of over 80 features, documentaries, and shorts representing the best in new cinema from around the world.
And The Awards Go To...
The Future of Filmfest DC
Without an immediate infusion of funding, mounting another Washington, DC International Film Festival (Filmfest DC) will be impossible. Expenses continue to rise and fundraising has not been able to keep pace. It tears my heart out, but without assistance, I don't see how the festival will be able to continue.
In recent years, we have drawn upon our meager cash reserves and trimmed our budget to the bone in order to present what has become both a work of passion for the staff and a highly anticipated annual cultural event for so many. However, costs for essential services continue to climb while the current challenging financial environment has diminished our capacity to raise enough funding to go forward.
We did not receive the funding level we expected from the District government and the University of the District of Columbia, the festival's primary sponsor, has been forced to curtail its support. Both of these actions were recent and unexpected. Many friends and foundations have remained supportive and we are very appreciative. However, it is simply not enough.
Less than half of our annual budget is covered by ticket sales and fundraising must make up the difference. Our overhead is miniscule with the vast majority of our budget devoted to presenting the films, promoting the festival, hosting guest filmmakers and renting venues, all of which have increased in cost. We will have no problems meeting this year's obligations, but we refuse to be financially irresponsible in the future.
The Washington, DC International Film Festival was the first film festival in the District of Columbia and remains its largest, attracting 23,000 to 25,000 residents and visitors each year. Our thousands of attendees fill parking lots, dine at neighborhood restaurants, take Metro and pay sales taxes every step of the way, making our event a significant economic generator.
I met two women at this year's Opening Night who told me they regularly travel from Spain to attend the festival. Another attendee told me she programs a film festival in California and annually attends our festival to scout for films. She said after Sundance, Filmfest DC is her favorite festival. And then there is Raj, a young professional from Maryland who attended his first Filmfest DC four years ago, found the film he saw life-changing and has been coming back ever since.
The reality is that without generous assistance, these contributions to Washington's vitality and to the human spirit will come to an end.
We call upon city officials and the Washington business community to consider the tremendous benefits the Washington, DC International Film Festival makes to our city. Contributions from individuals (through this website) and supportive letters to government officials (copied to filmfestdc@filmfestdc.org) are also appreciated. The city will lose a great asset if the festival is unable to continue and we need your help to ensure that does not happen.
Tony Gittens
Founder and Director
Washington, DC International Film Festival
Watch Our Festival Trailer
   

Trailer created by: LeRoy R. Konen, Jr., Chris DiNardo, David Parsons, Tag Gieselman, Mike Noble, Deisha Gardner - Cerebral Lounge


Julie Mays, Wall Matthews, Rich Isaac - Clean Cuts Music & Sound Design